As you may know, I recently graduated! It was very bittersweet for me. I truly loved my time at TCU, as a student of both the Department of Strategic Communication and the School of Art. I was able to explore so many of my interests with the help of my professors and the administration at TCU. I am sad to leave this great place, which has become a second home to me. I know that I will never find another like it.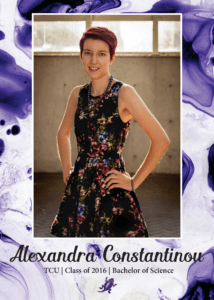 During my senior year, I have been able to see so many of my efforts come to fruition.
I have created some of my most favorite pieces of art yet (mostly about space) and been accepted to eight shows this year already.
I learned how to make artists' books and fell in love with a medium that is the exact opposite of videos.
I traveled to Adobe MAX in October, which kickstarted a new level of creativity in me.
With a fabulous and hard-working team, I successfully completed a national public relations competition, where I was able to meet and learn about so many incredible people. We also won an honorable mention at the national level!
I graduated Magna Cum Laude with a Bachelor of Science in Strategic Communication.
I'm not sure of the details of what the future will bring as I continue on the arduous job hunt, but I plan to remain in the great state of Texas. I will keep making my art in whatever form it takes. I will definitely continue falling in love with outer space. I will strive to always keep learning.